WEET TVS Diodes Consumer ELECTRONIC POWER MAINS Telecom Datacom Product Applications
WEET TVS Diodes are used to protect semiconductor components from high-voltage transients.
Their P-N junctions have a larger cross-sectional area than those of a normal diode, allowing them to conduct large currents to ground without sustaining damage. WEE Technology supplies TVS Diodes with peak power ratings from 200W to 30kW, and reverses standoff voltages from 5V to 512V.
Consumer ELECTRONIC product applications:
Computers—Server, Notebook, Ultrabook, Desktop
Handheld Portables—Smart Phone, Tablet, eReader, PND/GPS, MP3/PMP, Digital Camera/Camcorder
Consumer A/V Equipment—LCD/LED TV, set top box, DVD player
Peripherals—Scanner, Printer, Monitor, Disk Drive
Medium/Low-Speed Data Interfaces:USB 1.1, Ethernet, RS-232,RS-485, Keypads, Audio, Analog Video
SMF, SMAJ, SMA6L, SMBJ,SMCJ, SMDJ
Power Inputs:120/240 VAC
SMF, SMAJ, SMA6L, SMBJ, SMCJ,SMDJ, P4KE, P6KE, 1.5KE
Power Inputs: Blade DC input, Low voltage DC, Li-ion Battery
SMF, SMAJ, SMA6L, SMBJ, SMCJ,SMDJ, P4KE, P6KE, 1.5KE
POWER MAINS / AC Line PROTECTION*:
Uninterruptible Power Supply(commercial/industrial)
Surge Protective Devices (SPD)(building level equipment, load-centerpanels, datacenters)
Power Inverters
5KP, 15KPA, 20KPA, 30KPA, AK1, AK3, AK6, AK10, AK15
Lighting systems
LED Lighting Systems Power Supply (Lightning, Inductive Load Switching)
SMBJ, P4KE, P6KE, 1.5KE, 5KP, 15KPA, 30KPA,AK1, AK3, AK6, AK10, AK15
El ectric Motors*AC Induction Motors(continuous use) SMBJ, P4KE, P6KE, 1.5KE
Telecom/Datacom:
Medium/Low-SpeedData Interfaces:USB 1.1, RS-232, RS-485,Keypads, Audio, Analog Video
SMF, SMAJ, SMA6L, SMBJ, SMCJ, SMDJ
Brushless DC Motor Drive DC Supply Protection TVS Diode 1.5KE / 1.5SMC
Switch-Mode Power Supply Output Overvoltage TVS Diode 1.5KE / 1.5SMC
Triac Control Overvoltage Protection1.5KE / 1.5SMC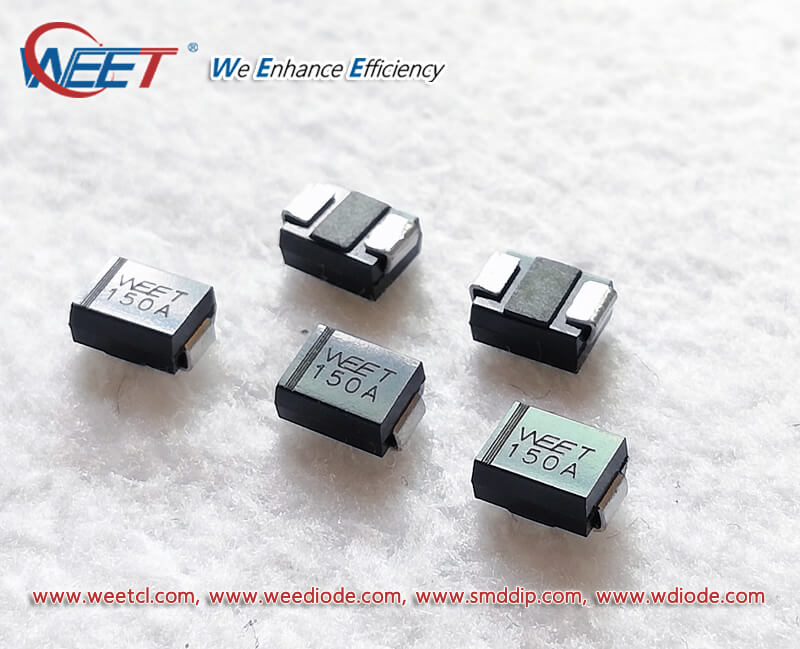 WEET Search
WEET Calendar
WEET Category
WEET Articles
WEET Medias
WEET Login